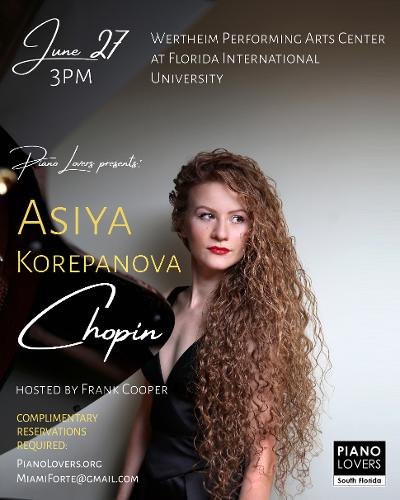 JUNE 27 at 3:00 PM at FIU's Wertheim Performing Arts Center!
We're pleased to have the remarkable pianist Asiya Korepanova live in concert in a program of Chopin in Miami!
Seating is limited, with complimentary reservations required – due to the safety protocols in place at this state of the art concert venue.
To see if reservations are available, please click here.
ABOUT PIANO LOVERS
Piano Lovers, a 501(c)3 non-profit organization, is dedicated to increasing interest in piano music, as well as to introducing people to outstanding pianists.  Founded by Abram Kreeger in March 2000, the organization is dedicated to:
Organizing concerts that provide the South Florida community with superior performances, and in turn provide superb pianists with a stage to showcase their talents.
Providing complimentary professional quality recordings for artists performing on the series, to provide great exposure beyond the concert stage.